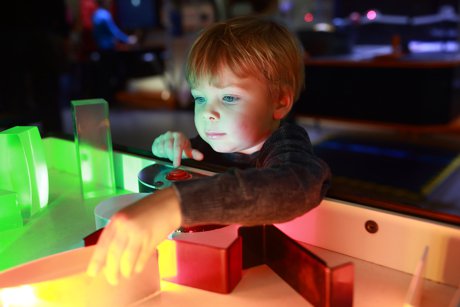 Imagination floats freely around Austin real estate. Brains are fully activated at the Thinkery Children's Museum. Brought into being in 1983 by a group of involved parents and advocates the museum focuses on a Vision of a "creative community with a passion for lifelong learning and discovery".
In the Austin property, area youngsters roam around and engage in interactive exhibits. Examples of math and science are intermixed with fun. While learning through play kids develop an enthusiasm and interest in their education. Favorite exhibits keep children and parents on their toes.
Go with the Flow on Austin Property
Things are cooking in the Kitchen Lab. Merging a science lab with a traditional kitchen space experimenting is the name of the game. In the Innovators' Workshop creativity knows no bounds. Microscopes put the focus on the littlest of details while painting on glass is a colorful experience. Folks lighten up in the Light Lab. Here light mixes with shadows and color mesmerizing all in the space. Visitors to the Currents display go with the flow. Things get wild and wet as the relationship between water and sound is explored in depth. Kids love to go outside and play and when the weather is warm and sunny Our Backyard welcomes all. A fun structure beckons climbers while shady trees are perfect for a rest. A soothing stream encourages some splashing about resulting in laughter from everyone.
Special events are always in the works. Early education programs are designed for babies on up. Baby Bloomers feature music and smiles with songs and silliness just for those four and under. Stimulating activities for youngsters up to 12 include camps, think labs and parent night outs. Families enjoy learning together during workshops and community nights. Members make any day extraordinary. Membership packages include unlimited admission, special events, discounts and more. Mark some time on the calendar to play and head on over to Thinkery. This is the time to make memories and those created on this piece of Austin real estate are be some of the best!