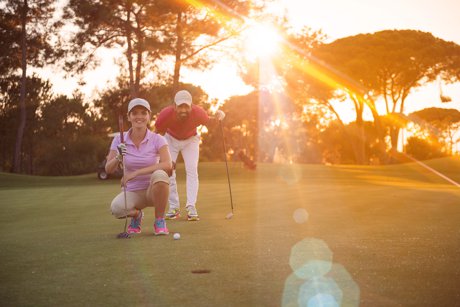 Don't let the name fool you, Quicksand Golf Course is the place to go for great games of golf. Found on Wimberley property the course is filled with lush greens, shady trees and rolling hills. Friends make time to spend together letting daily troubles drift away amidst the lovely scenery. Laughter, high fives and gentle ribbing follow excellent shots and unintentional blunders.
The state of the art course located at 1 Pro Lane is conveniently close for golfers living in the Wimberley real estate region to play. The 72 par layout presents a challenge for all levels of athletes and was designed specifically to present an array of strategic contests throughout its 18 holes.
Learn the Game of Golf on Wimberley Real Estate
After the game the gang hangs out in the clubhouse grill. Here the food's delicious and the beer free flowing with mad thumbs up given to the good old fashioned hamburger. A friendly ambiance fills the joint with lively chatter discussing all the action of the day. The eatery menu caters to a variety of tastes and appetites. Many locals find themselves heading on over just for a bite alone.
Improvement of the game is easily made when consulting the experts at Quicksand Golf Course. Appointments can be scheduled through the pro-shop by calling 512.847.9700. Lessons are available in a variety of formats perfect for groups and individuals. Clinics and other social events provide additional pointers on how to sharpen skills. Pro shop staff are more than happy to give advice as to the best equipment for each golfer. The shop is well stocked with top brand merchandise.
Becoming a member is well worth it for local Wimberley property golfers. Individual and family packages feature unlimited golfing and cart rental. Tee times can be booked online so consult the calendar and get out on the greens.